"The monuments would not be made of marble, granite and gold incised lettering, but modest, and let everything be temporary." Lenin, 1917.
Year 2019 would be the 70th anniversary of the German Democratic Republic (in German: Deutsche Demokratische Republik - DDR) and it is the celebration of the 30 years of the Peaceful Revolution (in German: friedliche Revolution). Two anniversaries that bring us back to a very different time and context than today: a division of Germany, as a result of the Second World War, which ended symbolically with the fall of the Berlin Wall, an event that marked the beginning of the end of European socialist regimes.
From these ephemeris began the project titled Werk der Millionen / Fest der Millionen (from the German: Work of the millions / Party of the millions), based on two of the propaganda publications made in the DDR to celebrate the twentieth anniversary of its foundation in 1969, year that would be the equator of the regime. The analysis and understanding of this publication provides the working material with the aim of decoding the historical discourse, investigating the internal space of the publications and their subsequent passage to the exhibition space, raising a personal view. This view is irrevocably contemporary, but it would be done using archival materials related to the twentieth anniversary of the DDR, a country that still exists in terms like Ostalgie.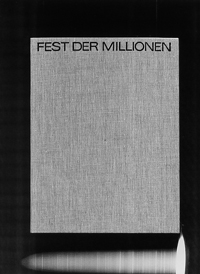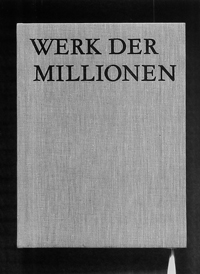 Fest der Millionen book prologue:
"In the third decade of the German Democratic Republic we are driven by large tasks, audacious projects, with long-term goals. A great deal has been achieved. There is still a great deal to be done to develop the socialist society in all areas.
The XX anniversary of this state is always a good reminder and stimulus on this arduous path. The German Democratic Republic was formed on 7 October 1949. On 7 October 1969, it was clear to everybody that the German peasant and worker state was resolutely continuing with its successful development."
Bilbaoarte art residence studio, 2013